May 17, 2021
Posted by:

Admin

Category:

Blog

Ugandan hikers Herman Kambugu and Mwembu also known as MacWilliams Edward Mponye on 8th May 2021 sett-off from the Rwenzori mountains gate (1,615 m above sea level) to Uganda's highest peak Margherita (5,109 m above sea level) with an intention of setting the fastest ever climb of 24 hours.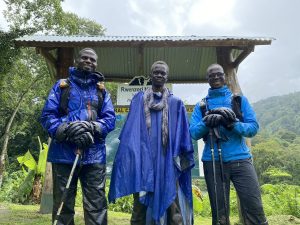 The duo who are also members of a local Ugandan hikers and climbers club  called Mountain Slayers Uganda  summited after 19 hours of hiking through the rain and bog of the Rwenzoris even with one of the members sustaining an injury.
The Ruwenzori, also spelled Rwenzori and Rwenjura, are a range of mountains in eastern equatorial Africa, located on the border between Uganda and the Democratic Republic of the Congo. The highest peak of the Ruwenzori reaches 5,109 metres (16,762 ft), and the range's upper regions are permanently snow-capped and glaciated. Rivers fed by mountain streams form one of the sources of the Nile. Because of this, European explorers linked the Ruwenzori with the legendary Mountains of the Moon, claimed by the Greek scholar Ptolemy as the source of the Nile. Virunga National Park in eastern DR Congo and Rwenzori Mountains National Park in southwestern Uganda are located within the range.
"OUR GUYS MADE IT! They summited at 7pm yesterday through the rain, bog and despite Mwembu sustaining and injury between Nyabitaba and John Matte on the way up. Total time: 36 hours and 40 minutes" read the tweet on @MtSlayersUg twitter handle
This is so far the fastest any climber has summited the Rwenzoris with the previous holder said to be 48 hours.