February 7, 2021
Posted by:

Admin

Category:

Blog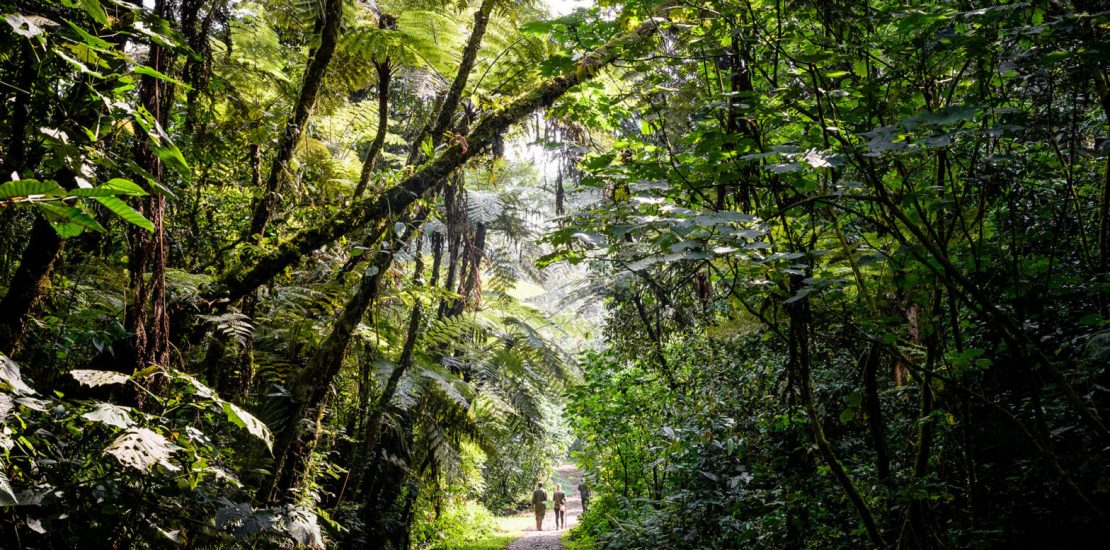 Situated in south-west Uganda, Bwindi Impenetrable National Park is just over 330km² (32,000 hectares). To the north lies Queen Elizabeth National Park (famous for its tree-climbing lions), to the south the Virunga Mountains of Rwanda, and the Democratic Republic of Congo lies along the western edge of the park. As part of East Africa's Albertine Rift and with altitudes ranging from 1,160 to 2,607 meters, Bwindi's ancient rainforests have some of the highest levels of biodiversity in Uganda, including over 160 tree species, 120 mammals and 350 documented bird species.
The park is divided into four sections, named after the surrounding villages:
1. Buhoma (northern Bwindi)
The most visited area of the park, Buhoma is the largest of the four sectors and has the highest density of luxury accommodation options. As the first section of the park to open to visitors, this is where gorilla trekking first started in Bwindi, when the Mubare gorilla group was habituated in 1992. Apart from the Mubare family, the Habinyanja and Rushegura groups also call Buhoma home. Visitors can also tour the neighbouring communities, bird watch and hike some of the most spectacular forest trails in Africa.
2. Ruhija (eastern Bwindi)
Ruhija is less-frequented than Buhoma, and home to the Kyaguriro, Oruzogo and Bitukura gorilla families. Aside from gorilla trekking, avid hikers can aim for the top of Rwamunyonyi Peak ("the hill of many birds") – the highest point in the park that offers extraordinary views. As the name suggests, the forests around Rwamunyonyi offer some of the best birding in Bwindi (more on that later). Many lodges and tour guides also offer trips into the surrounding areas to meet some of the Batwa people, the original inhabitants of the park. On offer are demonstrations of the use of medicinal plants found in the forest and other ancient survival skills practised by their people for thousands of years. While elephant sightings in Bwindi are infrequent, Ruhija offers the best chance of spotting one of these shy grey ghosts.
3. Rushaga sector (southern Bwindi)
The Rushaga region of Bwindi is famed for its gorilla trekking, with multiple habituated gorilla families in the region, including the Bushaho, Bweza, Busingye, Mishaya groups and the Nshongi group – the largest of all the gorilla families in Bwindi. The major drawcard of this region is that a gorilla habituation experience is offered for 2 of these gorilla families, which allows tourists to spend up to 4 hours with the group, rather than the standard 1 hour. The Rushaga sector includes Lake Mutanda, and so visitors can set out on a boat cruise for an entirely different perspective of the spectacular scenery.
4. Nkuringo (western Bwindi)
Home to the Nkuringo gorilla family, the Nkuringo sector is said to be the most scenic area to visit in Bwindi. The dramatic topography and break-taking views of the Virunga volcanoes do come at a physical cost; this particular region is better suited to more physically active visitors.

GORILLA TREKKING
While there are many aspects to your Bwindi safari, the vast number of tourists that visit every year come to spend time with mountain gorillas – one of Africa's most famous animals. For many, this is a once-in-a-lifetime, spiritual experience with these sentient great apes. Once on the verge of extinction, mountain gorilla numbers have been steadily increasing in the last decade, with the most recent estimate putting the number of wild mountain gorillas at over 1,000 individuals. Over 450 of these individuals are found in Bwindi Impenetrable Forest, making it one of the population's strongholds.
Gorilla trekking tourism has been a major contributing factor in the conservation of these magnificent creatures and will remain essential to their future survival. Gorilla trekking is carefully and consistently controlled, to ensure that no harm comes to the gorillas, and every tourist undergoes an induction session before commencing the trek. No more than eight individuals (less for certain gorilla families) are allowed at any one time with a gorilla family group, for a maximum of one hour. Gorillas are particularly sensitive to human-carried pathogens and what might just be a cold for an unsuspecting tourist could mean disaster for the local gorilla population. As such, visitors will not be allowed to participate in a gorilla trek if they are showing any symptoms of illness.
THE EXPERIENCE
A trip to Bwindi Impenetrable Forest is a physical and sensory extravaganza, combined with the fantastic opportunity to spend time with gentle mountain gorillas. The accommodation options range from budge community lodges to the more luxurious selections, but the cost of the guided gorilla trek and permits come standard regardless of your choice of abode. Porters will be on hand to help carry equipment and food, as it can take up to 8 hours to find the gorilla families, depending on how far they decide to move from one day to the next.  Hiring porters for a relatively small payment will not only free you up to enjoy every moment of this bucket-list experience, but it will also provide gainful employment to the very people who ensure the ongoing survival of these great apes.
Your gorilla trek safari is not the opportunity to break in a brand-new pair of boots; otherwise exploring the forests becomes an exercise in blister control and pain management. A reliable pair of worn-in waterproof boots that support your ankles is essential, as is waterproofing for your camera, money, passport and other valuables. Though there are drier periods around January and February, as well as from June until September, it rains all year round in Bwindi, and the damp at high altitudes can make it quite cold after a shower. Conversely, its proximity to the equator makes sunscreen an essential item, as it can be hot and humid when not raining. Visitors will be advised as to what to wear and pack, as being well-prepared is essential to making the most of a visit to one of Africa's most fascinating regions.
Bwindi Impenetrable Forest is indeed a fairy-tale forest; an undeniably mystical experience beneath the towering canopy. The residents of the park and surrounding areas, human and gorilla alike, are survivors in a dramatic landscape with a complicated history, which makes visiting Bwindi a genuinely humbling experience.